Imagine what it would be like if you were confident that the words on your website were consistently attracting the RIGHT people and converting them into paying clients?
IT WOULD BE A GAME CHANGER, WOULDN'T IT?
Friend, consider this game now changed.
What if I told you the key to skyrocketing your revenue in 2021?
Website words that sell on autopilot.
SOCIAL POSTS AND EMAILS THAT CUT THROUGH THE NOISE.
Messaging that sells but doesn't sound salesy.
And YOU with the confidence to write every single beautiful word.
Do you wish you knew how to use words for their power, their persuasion, their conversion?
Does it seem like your copy isn't even making an impact (and certainly not on the bottom line)?
Do you wish you knew how to get your HEART out there because it's so important to connect? You want to sound true to yourself and to your business, but also have a voice that attracts your audience — not turns them away. 
You're not even sure what all of this is supposed to look like, but you crave the elusive "know like trust" factor that the experts keep preaching.
It's time to stand out in your industry and start selling.
Not through pushy, in-your-face, bro marketing tactics, but through sharing the true value you offer, the care and compassion you exude as a business owner, and the incredible transformation you provide through how you serve your people.
And kicking the insecurity you feel about your writing skills to the curb for good.
>> Easy-to-follow MESSAGING FRAMEWORK + ACCOUNTABILITY to get it done + professional copywriting SUPPORT so you aren't doing this on your own.
Hey friend, I'm Lindsey. Copywriter, messaging strategist, entrepreneur, momma, and I believe YOU HAVE WHAT IT TAKES to write an amazing website.
You just need the right training, accountability, and support to get you there, which is why I created the program to do just that.
Through my years of experience strategizing brand messaging for clients, writing website copy that converts, and putting it all together in an overall message strategy that grows their business, I've realized that this process doesn't have to be intimidating or frustrating, even to someone who believes they can't write.
What it takes is a solid knowledge of your offer, your audience, and how your offer will help your ideal buyer.
It's a matter of caring, value, and communicating your heart onto the page in a way that's clear and concise so you have the confidence that your words WILL convert.
You have what it takes to communicate the value of your offer in a way that puts your buyer at ease and say, "Yes, I need that in my life."
It's a little bit writing, a little bit sales, and a little bit courage to give you the confidence to believe that YOUR MESSAGE IS GOLD.
Running live January 4 – February 22, 2020
Ready to clarify your message, write a website that sells, and grow your business with confidence?
I'll help you make more impact (and $$$ profit!) with your words so you can get back to what you do best and build that legacy for generations to come.
You want to be MEMORABLE, to stand out from your competition in a crowded marketplace. You're tired of blending into the sea of everyone else in your niche. 
You won't have to worry anymore if your website is pulling its weight. You'll see the difference fresh, effective copy can make on your audience and your own confidence. 
You won't have to be embarrassed to send people to your site or your offer because those pages will actually say what you need them to say (not just what you wished they said… if you ever got around to updating the info and working on the persuasion).
Your site will sell for you and your marketing messages will be effective, relatable, and irresistible. 
Are you ready for this?  
OKAY, GIVE ME THE DEETS
→ By the end of the program, you will have your brand messaging blueprint written and ready to implement, your website copy written and ready to implement, and your content plan prepared and ready to implement so everything works together to make you money. ← 
This program will be taught LIVE for 8 weeks so you'll actually get my eyes on your business, not just a self-study program to go through. 
What you'll get through the live program:
Group Kickoff Party the week of December 14
to get to know each other and plan for a great cohort + group training Why You Need A Clear Marketing Message
8 weeks of live content / trainings on Zoom
Bi-weekly 1 hour co-working sessions on Zoom
Bi-weekly 2 hour group coaching calls on Zoom
Private Facebook group
for support, accountability, and content review
Matched w accountability buddy
to ensure you get. stuff. done.
Access to Lindsey (!!!)
for continuous review, feedback, and customized support
Writing copy without anyone to give you feedback is SO HARD, so during this live round, you'll have access to me to bounce off ideas, get feedback and insight, a copy eye on your messaging and website pages, and an actual support system so you can get this big project done and out into the world
(where it can start making you dollars, instead of keeping it all hidden in your head).
The LIVE program is split into three main phases: 
Phase 1. Creating Your Messaging Roadmap
This is where we identify and refine everything that makes up an effective marketing message for your business: the human you're talking to, the mission behind what you're doing, the way you stand out in the marketplace, and so much more.
It's literally a blueprint for everything you'll ever need to write for your brand. Ever.
Phase 2. Writing a Better Website that Connects and Converts
This is the phase that we put all of your Messaging Roadmap into use — writing the pages of your site in a way that attracts the right people and converts them to clients.
This is the same process I use to write my clients' sales funnel copy, and IT WORKS.
Phase 3. Creating Effective Content with Purpose and a Plan
This is BONUS CONTENT that teaches you how to use your Messaging Roadmap for content creation that will drive traffic to your website so you can convert them to clients.
Having a killer website is the goal, but you need your content to share the same message for consistency, building rapport, and earning trust. 
PHASE 1. CREATING YOUR MESSAGING ROADMAP
Your launchpad for marketing success
WEEK 1
Your Mission, Vision, and Values

Your Ideal Client

What Makes You Stand Out 
WEEK 2
Brand Voice and Tone

Creating Your Core Marketing Messages

Selling Your Offer
WEEK 3
Implementation: putting it all together into your custom Roadmap

Submit roadmaps for review
PHASE 2. WRITING A BETTER WEBSITE THAT CONNECTS AND CONVERTS
Writing a website that sells
WEEK 4
How to write a website that converts

My framework: Connect and relate > identify and agitate > transformation > call to action
WEEK 5
Your Website Playbook

Website page templates, swipe files, and examples
WEEK 6 
Implementation: writing your killer website copy

Submit website copy for review
Phase 3. Creating Effective Content with Purpose and a Plan
Using your brand messaging roadmap to skyrocket the effectiveness of your content
WEEK 7
Content Planning Made Easy Masterclass w/Trello board
WEEK 8
Impact Email Marketing:

Learn to write emails that increase your impact and your income w/swipe files 
But that's not all. We're just getting started. Get these 5 FREE Premium Bonuses to make this a 5-star experience: 
Creating Your Social Media Messaging Plan
Workshop + Trello board. $197 value.
Selling with Storytelling
Workshop + PDF. $197 value.
How to get Unstuck in the Creative Copywriting Process
10x Your Content: Write It Once and Use It Everywhere
Words That Motivate
Use this cheatsheet to know the words to get your audience to take action. $37 value.
>> This program is valued at OVER $3,000 and for this pilot launch only, you'll get all of this at one easy payment of $497 or 2 easy payments of $297.
Your Message Is Gold will be turned into a $997 evergreen program later in 2021, may not be available with the group component again, and this is the very best price with the very best live bonuses.  
You're invited to take advantage of my eye and expertise as well as the results-driven program, to make the start of 2021 the best it can be.
Your Message is Gold is the answer to what's been missing in the DIY copywriting space for years. But is it right for you? 
This program is for you if:
You are coachable and looking to follow a tried-and-true copywriting framework that I've used with my own private clients for years. 
You are willing to show up and put in the work.

While it may sound good to hire this stuff out, you want to create messaging and copy for your business yourself so your authentic personality and voice shine through to your audience. 
You do better with live coaching programs than DIY courses or programs.

This is your best chance for personalized coaching from me in a program setting. I offer private copy coaching and done-for-you services, but the future plan for this program is to run as an evergreen DIY course later in 2021. 
You are ready to overcome the fear and uncertainty

you've felt surrounding copy for a very long time. 
You're ready to take 2021 by storm.

New website words. Concise, effective marketing messages. Content that leads to sales. No more watered down words — just copy that converts. 
You're ready for your words to sell.

 
This program is NOT for you if:
You do not have time to dedicate to the content.

This program isn't hiring someone to do the work for you —

although you'll have my copy eye and support every single step of the way.

It's a deep-dive into the heart of your brand and learning how to pull the words out of your head and getting them onto paper. 
You'd rather just shell out the several thousand dollars to hire a copywriter

(I mean, if that's the case, I can help with that too).
You're perfectly content with the state of your website, your marketing, and your copy.

There's no room for growth, you have no desire for more revenue/profit, and you're happy and satisfied with where your business is at right now.

In other words, you want your 2021 to look like your 2020.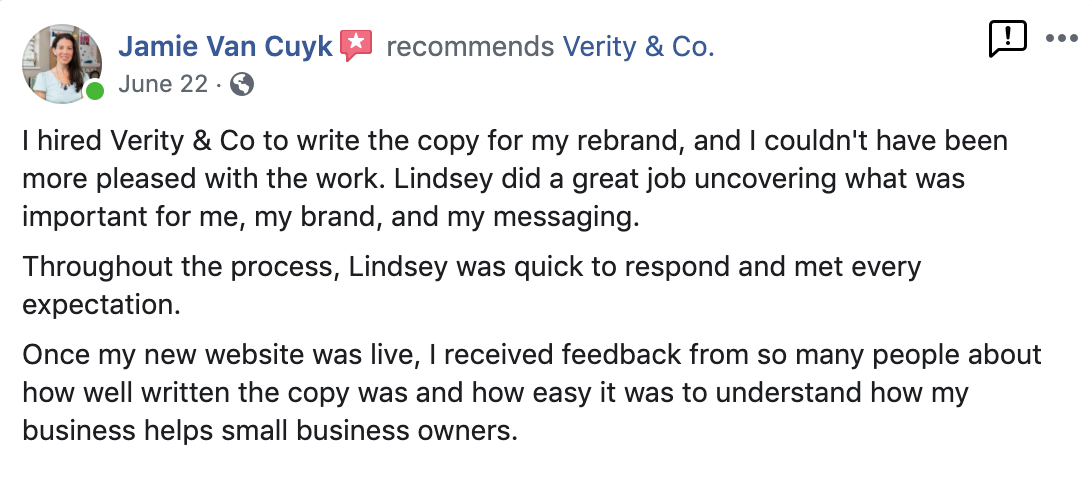 Before you say yes, let me answer the rest of your Qs…
What if I can't attend all the live trainings?
That's no problem at all. Attending the live trainings is encouraged to glean as much value out of the program as possible, but you can always tune into the replays (housed in our members area) and access the content and supporting materials that will be added on a weekly basis. 
Will this program be offered again?
Yes, it will. However, the main difference is that I am teaching it LIVE this round with the intent of turning it into a $997 evergreen program later in 2021. It may not be available with the group component again, and this is also the very best price with the very best live bonuses. 
i have a product based business. Is this still for me?
This program is designed to help you create messaging that connects, a website that sells, and content that converts. It's made to include both service templates and product templates, so YES. If you have a product based business, this is still for you. I have experience helping several product based business craft a stronger brand message and have written product descriptions for many shops and entrepreneurs.  
What is your refund policy?
My goal is for you to be satisfied. My goal is for you to come out of this product with incredible messaging blueprint, killer website copy, and a content plan that converts… my goal for you is that you create copy that you're over-the-moon excited about and proud to put out into the world. If you dive into the program, show up to the live calls, and show that put in the work, and STILL don't feel like you got your value out of the program, we can talk. Honestly, I don't want your money if you aren't completely, 110% satisfied. 🙂
 Here's the thing. This might seem like a scary move. A big investment. A vote of confidence for a skill (or lack thereof) that you've never given yourself credit for.
 But what if you don't make the move? Maybe you've struggled with writing your own copy, and it feels like an uphill battle to conquer this skill on your own. You don't feel confident writing or talking about it in your marketing messages in a way that feels authentic, not salesy, and will share its true value.
But if you stay at this status-quo, think of the lost opportunity. The potential impact gone. The clients missed, revenue stagnant. What if this is key to unlocking your next big uplevel? You'll never know if you don't make the move.
This is what Your Message Is Gold is designed to do. To help you bust through your mindset barriers, find your true message, and dig deep into the heart of "why" so you can share and sell with heart and service. It's time for that business growth you've been dreaming about.
It's time to clarify your message, write a website that sells, and grow your business with confidence. 
Your message is gold. Let's dig deep together.